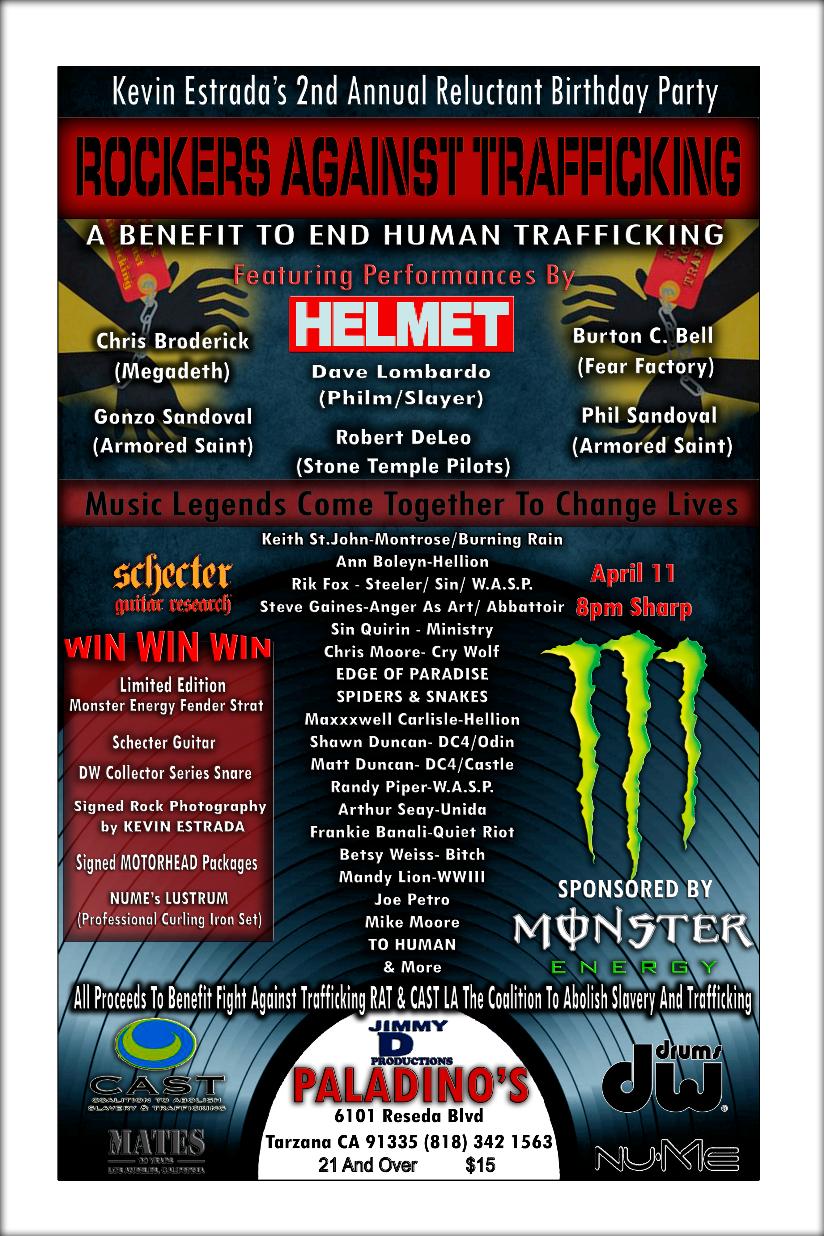 FOR IMMEDIATE RELEASE:
ROCK PHOTOGRAPHER KEVIN ESTRADA HELPS RAISE AWARENESS OF HUMAN TRAFFICKING WITH "ROCKERS AGAINST TRAFFICKING" AND BENEFIT SHOW

Veteran photographer Kevin Estrada has shot some of rock's biggest names over the years - Nirvana, Kiss, REM, Green Day, Fergie, etc. And now, he is using his connections in the world of rock for a good cause - helping to raise awareness of human trafficking, by creating the organization "Rockers Against Trafficking" [rockersagainsttrafficking.org] and scheduling an upcoming all-star benefit show, on April 11th at Paladino's in Tarzana, CA (and sponsored by Monster Energy).
"Besides being a photographer, I am a dad – that is my top priority in life," explains Estrada. "I have two young daughters that I care about and love very much. For the past few years, human trafficking has been on my radar as we see and hear more and more about this spreading sickness. Young girls, like my daughters, fall victim to this travesty every day – and that worries me."
Last year, Estrada had a birthday party at Paladino's, which resulted in plenty of his rock pals joining in the fun for jam sessions. This year, when talk of having another b-day bash came up, the photographer came up with an idea - make it a benefit to fight human trafficking.
"Our goal is to build awareness and raise funds to support the fight against human trafficking here in our own country and abroad," says Estrada. "Human trafficking is the second largest criminal industry in the world today – second only to drug activity. This is tragically happening to nearly two million girls worldwide ever year, some of these girls are as young as 7 years old. This is happening all over the world, and it is also happening right here in our own backyards. Los Angeles, San Francisco and San Diego are hot spots here in California."
The proceeds from the show on April 11th will be used to rebuild the lives of these young victims with housing, medical assistance, legal aid, and job placement. These donations will also be used to build and set up border monitoring stations on the borders between countries that are known for human trafficking.
In addition to performances from members of Helmet, Megadeth, Stone Temple Pilots, Fear Factory, Slayer, Ministry, Armored Saint, and Quiet Riot, among countless others (see list below), there will be silent auctions and raffle giveaways - guitars donated by Schecter Guitars and Monster Energy / Fender Guitars, a DW Drums collector's series snare drum, plus signed goodies raffled off from Motörhead and The Cult, and more.
Come down to Paladino's on April 11th for music, fun, and to support a great cause!
FOR MORE INFORMATION [OR TO MAKE A DONATION], VISIT:
rockersagainsttrafficking.org
SHOW INFO:
Friday April 11, 2014
8pm Sharp
Tickets are only $15 at the door
Paladino's
6101 Reseda Blvd.
Tarzana, CA 91335
(plenty of free parking)
Performances by :
HELMET, Chris Broderick (Megadeth), Robert DeLeo (Stone Temple Pilots), Dave Lombardo (Philm / Slayer), Phil Sandoval (Armored Saint), Gonzo Sandoval (Armored Saint), Burton C. Bell (Fear Factory), Ann Boleyn (Hellion), Keith St. John (Montrose / Burning Rain), Sin Quirin (Ministry), EDGE OF PARADISE, Betsy Weiss (Bitch), Rik Fox (Sin / Steeler / W.A.S.P.), SPIDERS & SNAKES, Chris Moore (Cry Wolf), Steve Gaines (Anger As Art / Abaottoir), Shawn Duncan (DC4 / Odin), Matt Duncan (DC4), TO HUMAN, Randy Piper (W.A.S.P.), Mandy Lion (WWIII), Frankie Banali (Quiet Riot), Arthur Seay (Unida), and more.