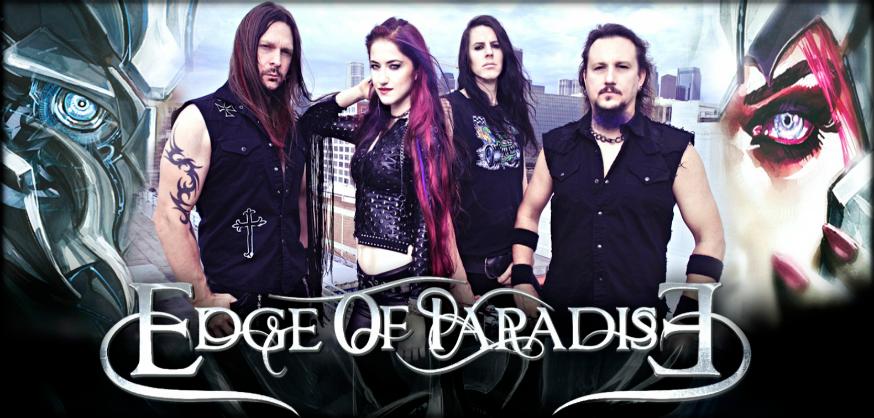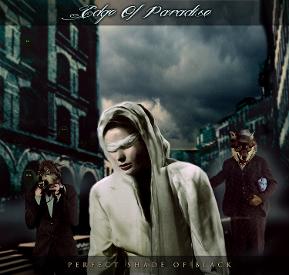 OVERVIEW

Formed by Margarita Monet and Dave Bates earlier in 2011, Edge Of paradise did not wait to release their debut album "Mask", that features rhythm section comprised of veteran players, Tony Franklin, Gregg Bissonette and Bjorn Englenple. Released September 15/2011, "Mask" came in at #6 most added on national CMJ radio, right behind Machine Head and Five Finger Death Punch. An Album chockfull of industrial-tinged metal coupled with towering guitars and soaring vocal hooks. "Mask" gained the band recognition by fans and critics worldwide for originality and musicianship. With upcoming songs "In A Dream" and "Break Away" recorded by Bob Kulick (Kiss, Motorhead), and mixed by legendary Michael Wagener (Metallica, Ozzy…) the band is looking forward to the future. Edge Of Paradise is about creating music that will stand the test of time, as well as bringing the best live show to the fans of rock and metal.
BAND BIO
Edge of Paradise might be a new band, but when your debut album includes the rhythm section of bassist Tony Franklin (Blue Murder, The Firm) and drummer Gregg Bissonette (David Lee Roth Band), you know you're already in great shape. Now add the powerhouse vocals of Margarita Monet and Dave Bates' towering guitars and you have yourself a record essential to any fan of melodic metal.
Formed by Monet and Bates in 2011, Edge Of Paradise debut release 'Mask' came at #6 most added on national CMJ radio, right behind Machine Head and Five Finger Death Punch. An album chockfull of industrial-tinged metal coupled with soaring vocal hooks, was greatly received by critics and fans worldwide. Legendary Rock Interviews stated "Once in a while a new band comes along that not only has a unique sound of its' own but draws upon all the things we love about metal or rock to begin with. Edge of Paradise are one of the best independent bands to come out of L.A. in some time."
Edge Of Paradise has been gearing up for the new year with new music and big plans. The group immediately began writing to showcase the bands maturity and define the direction that was pre-empted by "Mask". Working with legendary Michael Wagener on the mix of the songs and recording with Grammy winning producer Bob Kulick (Kiss, Motorhead), the new songs will be a showcase for the staggering growth and maturity, achieved since the release of the "Mask".
Live, the band delivers a tight, energetic and big performance. HardRockHaven stated, "Don't be fooled by her angelic personality and beauty, Monet's power and intensity will grab you by the neck and won't let go until your head is blown off by her unearthly vocal range, hitting the notes most singers would not dare to attempt. Guitarist, Dave Bates is the epitome of sheer effortless virtuosity; this guy will make all guitar players either Idolize or hate him, as there are very few guitarists on this Earth that can shred like Bates."

Femmemetalwebzine stated "With solid and refreshing material and phenomenal musicianship, Edge of Paradise is no band to take lightly." And Music Connection Magazine described the band "as a tight, well-oiled machine". The band is now ready to bring that machine to the people!
Live Reviews:
Femme Metal Magazine-Live review show in Seattle, WA

Metalholic Magazine- Edge Of Paradise brings Tsunami To Hawaii Concert Review

HardRockHaven - Edge Of Paradise with Kamelot @ Majestic Ventura Theater